In-school, touring theatre program
We bring live theatre to your school! Let MYT introduce your students to the art of theatre through age appropriate, entertaining and exciting plays.
---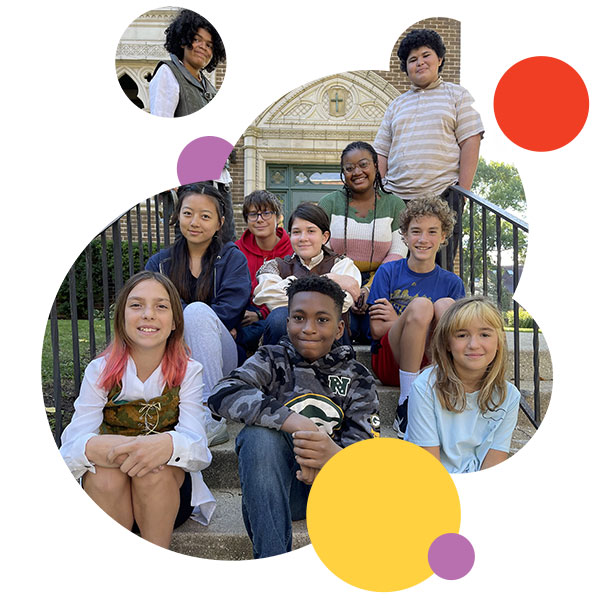 No stage? No problem!
MYT will be producing three touring shows for the 2022-2023 school year:
Around the World in 8 Plays. This collection of folktales from around the world is both fast-paced and hysterical. Best for an audience of K-8th grade.

Dates and times: November 7, 8, 9, 10. Showtimes for dates are 9am, 10am, 11am, 1pm and 2pm
Cost: $400 per show or $600 for two shows back-to-back at the same location
Audience: Maximum audience size is 200
Reduced Fees: Schools in need may be granted special fees. Please contact us for more information
Length: Programs are approximately 60 minutes and include a guided question and answer session after the show

The Boy With a Suitcase. Winter, 2023. Dates TBD.
Flora and Ulysses. Spring, 2023. Dates TBD.
We can use most any space and will bring everything with us! Our actors handle the set up (30-60 minutes) and load out (30-60 minutes) of our sets. An average weekday consists of performing at one school in the morning and another school in the afternoon. Please note that the tours have requirements in terms of space and minimum audience size that we would be happy to talk with you about when you request a booking.
Workshops
We also offer in-class workshops based on our touring shows for an additional fee of $25 per classroom. Each workshop is 1 hour and led by an MYT staff member.
Study guides
Our touring shows have accompanying in-depth study guides at no additional cost. The guides offer suggestions for activities and discussions that meet classroom learning goals.
Our materials can cover:
Historical background of show topics and settings
Discussion questions for classrooms or small groups
Fun pre- and post- show activities, games or crafts
Here is a sample teacher's guide from a recent production:
Most of our students have had very limited experiences with performing arts. Seeing performances done by the Milwaukee Youth Theatre children has been a catalyst to getting my students reading outside their comfort zones.
Book a show
Our student actors will bring to life an experience for each child to stretch the mind, inspire the heart and promote education. For more questions about our school shows, contact us at harmonie@milwaukeeyouththeatre.org.