Touring theatre program
We bring live theatre to your school or organization! Let MYT introduce your community to the art of theatre through age-appropriate, entertaining and exciting productions.
---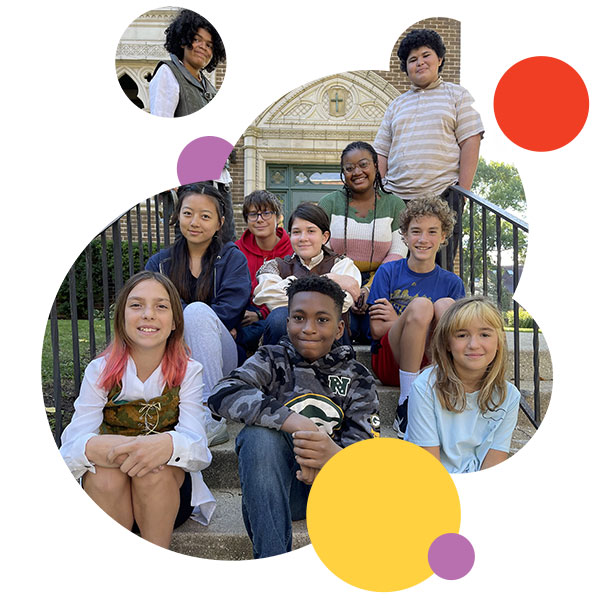 No stage? No problem!
MYT will be producing four touring shows for the 2023-2024 season:
The Snow Queen (Musical). Be spirited away by this musical adaptation of Hans Christian Andersen's fantastical coming-of-age adventure. Join Gerda on a dangerous and whimsical quest to save her best friend Kai before he is trapped forever in the Snow Queen's palace. Enter a world where flowers sing, animals talk, and riddles yearn to be solved. With an original score, urban steampunk flair, and an enigmatic Snow Queen, you'll see why we don't give up on the people we love.

Dates: November 6, 7, 8, 9, 10

The Day the Waters Came. It is summertime in New Orleans and it is 2005. Maya Marsalis takes you by the hand, sometimes the throat, and leads you through her landscape the day Hurricane Katrina came, the levees broke, the world watched. Go with her as she shows you how her world and that of thousands of others changed forever, the day the waters came.

Dates: February 5, 6, 7, 8, 9

I Never Saw Another Butterfly. More to come.

Dates: May 6, 7, 8, 9, 10

Lost Tales 2: Loster Tales. Let our ragtag team of storytellers help you celebrate the end of the school year. Take a journey around the world as they tell folktales from Korea, Poland, Mongolia and other places. Learn why Bat hides in a cave, how Hermit Thrush got his song and how a naked guy tricked the Wind Eagle and lost his clothes in the process.
Dates: June 3, 4, 5, 6, 7
General information for all shows
Cost: $500 per show or $700 for two shows back-to-back at the same location
Audience: Maximum audience size is 200
Reduced Fees: Organizations in need may be granted special fees. Please contact us for more information
Length: Programs are approximately 60-70 minutes and include a 10-minute, guided question and answer session after the show
Cast and Crew: Our cast and crew is made up of Milwaukee students ranging in age from 10-18
We can use most any space and will bring everything with us! Our actors and volunteers handle the set up (30-60 minutes) and load out (30-60 minutes) of our sets, props and a/v equipment. An average weekday consists of performing at one organization in the morning and another organization in the afternoon. Preference is given to organizations who register for two shows on the same day. Please note that the tours have requirements in terms of space and minimum audience size that we would be happy to talk with you about when you request a booking.
Workshops
We also offer workshops based on our touring shows for an additional fee of $50 per workshop. Each workshop is 1 hour and led by an MYT staff member.
Study guides
Our touring shows have accompanying in-depth study guides at no additional cost. The guides offer suggestions for activities and discussions that meet classroom learning goals.
Our materials can cover:
Historical background of show topics and settings
Discussion questions for classrooms or small groups
Fun pre- and post- show activities, games or crafts
Here is a sample teacher's guide from a recent production:
Most of our students have had very limited experiences with performing arts. Seeing performances done by the Milwaukee Youth Theatre children has been a catalyst to getting my students reading outside their comfort zones.
– MPS Teacher
Book a show
Our student actors will bring to life an experience for each child to stretch the mind, inspire the heart and promote education. For more questions about our community shows, contact us at harmonie@milwaukeeyouththeatre.org.